Fully Automated Fast-Charging System for E-Trucks in the Megawatt Range
The electrification of commercial vehicles has the potential for reducing noise emissions and carbon dioxide levels. However, long charging times currently prevent the implementation of electrically driven trucks. The aim of project "MEGA-LADEN", therefore, is to design and demonstrate a fully automated fast-charging system for e-trucks in the megawatt range. Using a this system of this kind, it will be no problem to charge large truck batteries during loading and unloading, or during the legally required break times. All this is made possible by an automated fast-charging interface with a charging capacity of over one megawatt. Automating the procedure means a huge gain in comfort for users, it will increase the acceptance of e-mobility in the logistics sector, and it allows people without special knowledge to use electric charging technology.
Project term: 36 months; October 1, 2020 - September 30, 2023
Locations: Munich, Dinslaken, Osnabrück, Wettenberg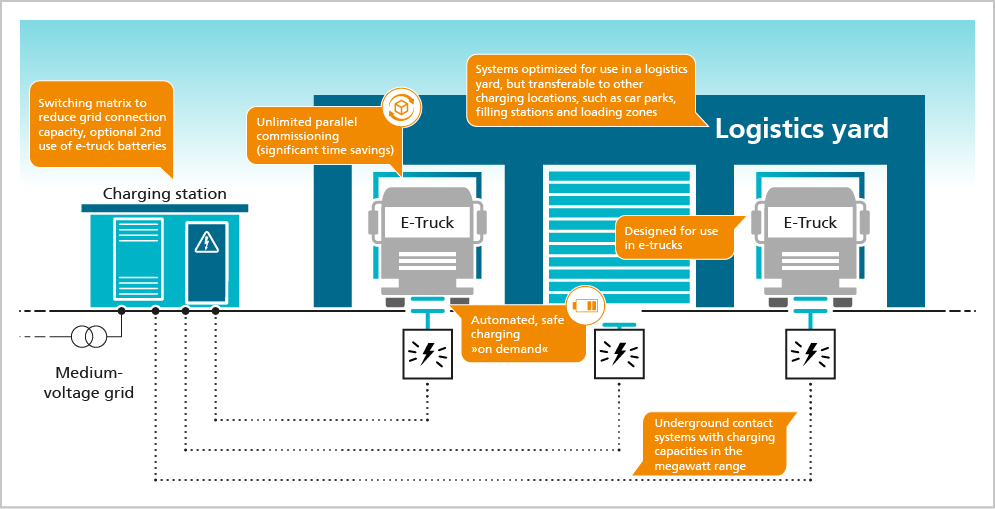 ---
The MEGA-LADEN project receives funding from the Elektro-Mobil funding initiative by the Federal Ministry for Economic Affairs and Climate Action, grant no. 01MV20004A. The overall project is coordinated by DLR-Projektträger, the accompanying research activities are coordinated by TÜV Rheinland.